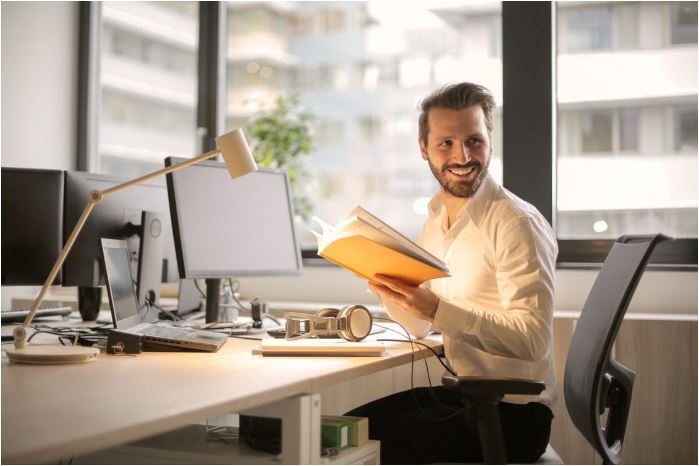 Health & Safety in the Office: Ergonomics
An effective workspace is essential to feeling well at work and wherever else. Ergonomic changes to your workspace promote good posture and contribute to physical wellbeing. They also allow better efficiency with tasks.  Consider the ergonomic recommendations below and seek professional help from a registered occupational therapist if you need more help.
Ergonomic Recommendations
Consider the following:
Posture.

Are you sitting up straight?
Are your shoulders relaxed?
Are you leaning forward, creating tension in your back?

The height of your chair.

Are your forearms horizontal, your wrists straight, and your thighs at a 90 – 110 degree angle at the hips?
Does the lower part of your backrest support the curve of your back?
Do you have armrests, to decrease the strain on your back and neck?

Your computer monitor.

Is the top line of text on the screen at eye level?
Is the screen an arm's length away from your eyes?
Do you need to adjust the contrast, brightness, or font size on the screen?

Your visual needs.

WorkSafe BC has a list of information to share with your ophthalmologist or optometrist regarding your desk and computer work.
Do you need to lower the overhead light levels to prevent glare?
Do you need to move your desk lamp (to the opposing side to your dominant hand)?

Your work area organization.

Are frequently used items close to you (within a 30 cm reach)?
Are occasionally used items within an arm's reach to you (within a within a 50 cm reach)?
Are any rarely used items put away or set further aside?

Your phone set up.

Do you use a headset or speakerphone to avoid awkward neck positions?
Take short breaks (20 sec. to 2 min.) to allow your muscles to rest between repetitive activities. On longer breaks, stand up and walk around so that you use different muscles than while sitting.  Try basic exercises like these here or here to help you prevent strains at work.
You may find an ergonomic assessment by an OT to help address any issues you have.  Contact us and we will be happy to have an occupational therapist come to you.
E-mail: info@ot-works.com
Phone: 604.696.1066 ext 1000
Resources