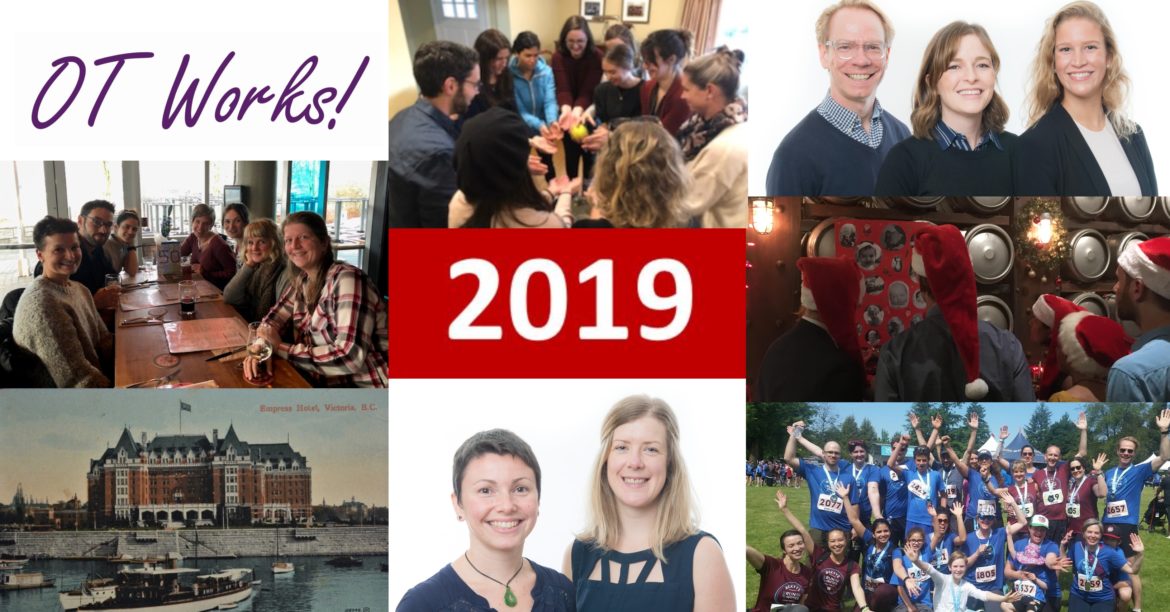 Helping Others, Growing, Learning, and Having Fun
As 2019 draws to a close, we reflect on how we have grown as a team and as a part of our wider community this past year.  In 2019, OT Works! continued to grow, develop and have fun. We have been privileged to work with amazing people, customers and clients. We love occupational therapy and share our knowledge and skills with others.
Growing Team and Families: We welcomed four occupational therapists to our team. Welcome Bronwyn, Mathilde, Jodie and Megan! Several of our OTs also welcomed new babies and we celebrate growing, healthy families!
Vancouver Island: OT Works has expanded to serve Vancouver Island. We now serve Greater Victoria area (Victoria, Esquimalt, Oak Bay, Sooke, Saanich, Sidney, Langford, Colwood, Metchosin) and the Central Vancouver Island (Campbell River, Courtenay, Comox, Cumberland, Fanny Bay, Nanoose Bay, Union Bay).
Sharing and Learning: We continue to grow and learn from each other through monthly clinical in-services, regular mentor-ship and and informal clinical discussions. Continuous learning, feedback, and collaboration fosters better results and better care.
Giving Back: As part of our commitment to the health communities and healthy people, we participated and supported the 2019 Run for Water. We are thrilled to have fund-raised and contributed over $2,226 to clean drinking water in Bekyye, Ethiopia. We also supported World Wildlife Fund and Because I am a Girl,
Having Fun: Getting together and sharing stories and laughter is a big part of what makes being part of the OT Works! team enjoyable. By getting together for regular socials events and sharing stories over coffee, we celebrate our journey as community occupational therapists together.
With Gratitude
We are continually amazed at the breadth of skills our clients have. We feel privileged and honored to have worked with amazing clients this year. We look forward to meeting and helping others in 2020.
From our families to yours, we hope you have a Wonderful Holiday Season and a Joyous New Year!
Welcome Jaclyn Forsythe and Nicole Chan to the OT Works! team. They provide community OT services helping clients with musculoskeletal and orthopaedic injuries as well as mental health issues and mixed diagnoses. They work with clients following motor vehicle accidents and workplace injuries with a focus function and return-to-work.
Nicole is passionate about community-based rehabilitation. She meets her clients where they are at in their recovery and her treatment solutions are insightful, creative and individualized.
Jaclyn organizes and simplifies complex situations to produce meaningful results. She has experience with chronic pain with a focus on return-to-function and return-to-work.
Like all of our therapists, Nicole and Jaclyn, are full registrants and in good standing with the College of Occupational Therapists of British Columbia (COTBC).
Learn More: